Friend: The Government has loosened the restrictions on the mortgage insurance recently so that more properties are eligible for a mortgage loan with 90% loan-to-value (LTV) ratio. Is it difficult to apply for that?
Mr. S: Well, there are indeed a couple of requirements to meet, including the purchaser's monthly income, the property price and whether or not he is a first-time homebuyer.
According to the new Mortgage Insurance Programme (MIP), buyers who purchase a property valued at HK$8 million or below are eligible to apply for insurance coverage for a mortgage loan with 90% LTV ratio. Under the new MIP, the down payment for a property worth HK$8 million is only HK$800,000, which is more lenient than the previous MIP which only allowed people purchasing properties worth HK$4 million or below to apply for a 90%-LTV-ratio mortgage.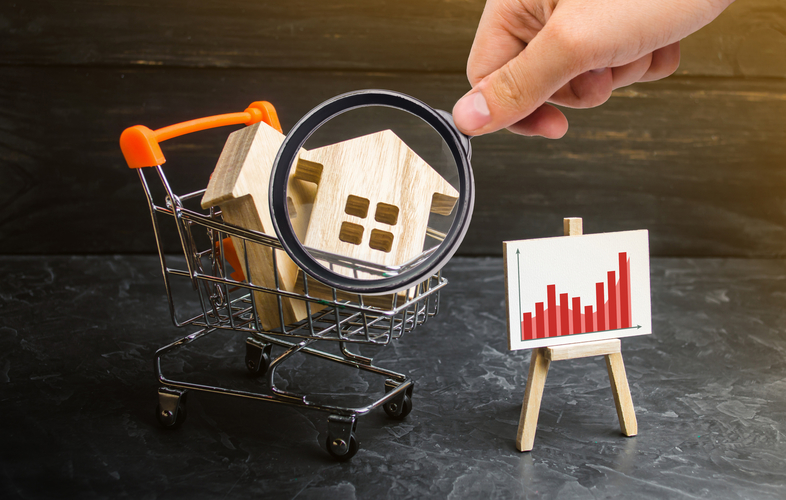 Requirements for a Mortgage Loan with 90% LTV Ratio
Income Source Shall be Local
In fact, there are several pre-requisites for a mortgage loan with 90% LTV ratio, the first of which is that the purchaser must have a local income source. In other words, he must provide an income proof indicating his employment in Hong Kong as mortgage insurance providers no longer accept applications from property purchasers without a local income source.
The Purchaser Shall be First-time Homebuyer
As stipulated, only first-time homebuyers are eligible for applying for a mortgage with 90% LTV ratio. In general, "first-time homebuyers" refers to people who do not possess any properties in Hong Kong at the time of transaction. Thus, if a person has sold all his properties in Hong Kong and plans to purchase another flat, he will be regarded as a first-time homebuyer. Contrarily, if a property owner who wishes to upgrade his home by purchasing a new flat before selling the old one, he can only receive a mortgage with 80% LTV ratio at most.
The Property Shall be Purchased For Self-Use Only
If a purchaser wants to apply for a mortgage with insurance coverage, the purchased property must be his or the guarantor's main residence till the mortgage insurance expires or till mortgage insurance providers abrogate this requirement. In most cases, the guarantor shall be a close relative or the fiancé of the mortgage applicant.
The Purchaser Shall be Regularly Salaried
The purchaser must have a regular, stable salary if he is applying for a 90%-LTV-ratio mortgage, meaning that the applicant's income from self-employed or freelance jobs will be not considered.
Property Price Shall be Worth HK$8 Million or Below
It is worth noting that the mortgage with 90% LTV ratio is only applicable to properties valued at HK$8 million or below. For those worth HK$8 to 9 million, the mortgage loan will be capped at HK$7.2 million whereas that for properties worth HK$9 to 10 million will be capped at 80% of the property price.
Documents Required for Mortgage Application
1. Valid ID of the applicant
2. Residential address proof within the past 3 months, such as electricity bills or bank statements
3. Agreement for Sale and Purchase
4. Bank passbook or statements within the past 3 months, including but not limited to salary entries
Preparation Prior to Submitting Mortgage Application
Repay Credit Card Balance On Time
It is crucial that people settle their credit card payments on time as failure in doing so or merely paying the minimum charge may affect their mortgage applications.
It is also a better idea to repay credit card installments in advance as the bank to which the property purchaser is submitting mortgage application may treat the credit card installments as a loan and add the monthly installment repayment to the mortgage repayment amount. For example, if the applicant has to repay a monthly credit card installment of HK$1,000 for the annual insurance premium he had paid before and at the same time has a monthly repayment of HK$18,000 for his newly purchased property, the bank involved may sum up both amounts, i.e. HK$19,000, when calculating the applicant's monthly repayment amount. In this case, if the income level of the applicant only barely passes the stress test and meets the required debt-to-income ratio, he may not meet the relevant income requirement after his credit card installments have been added to the month repayment amount.
Have Sufficient Income
Although a mortgage with 90% LTV ratio helps one reduce the amount of down payment, it simultaneously increases the amount of income required for him to pass the stress test. Of course, he can still apply for a 90%-mortgage upon paying extra insurance premium and keeping his debt-to-income ratio below or equal to 50%. If the applicant is repaying other mortgages, such as those for a parking lot or commercial property, his debt-to-income ratio must be kept at 35% or below.
Calculated Based on a Mortgage with 90% LTV Ratio, an Annual Mortgage Interest Rate of 2.625% and a 30-Year Repayment Period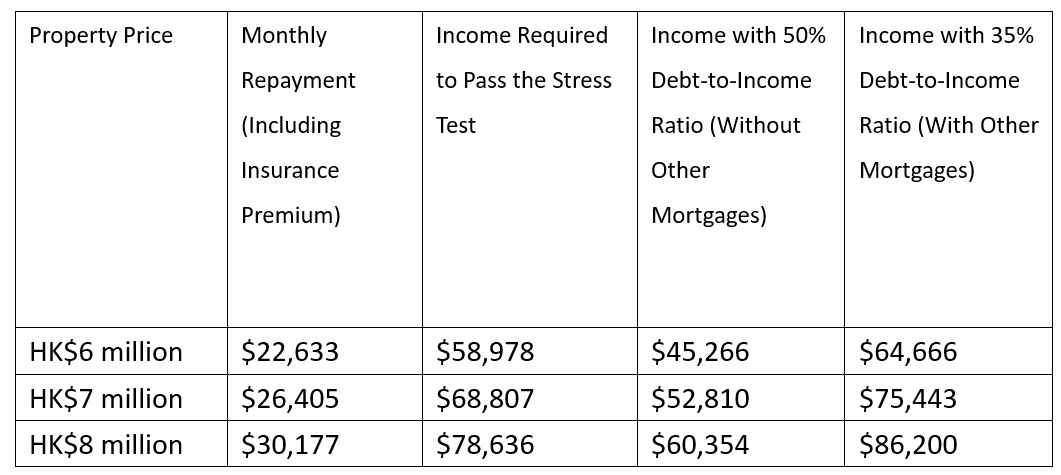 *All terms and conditions are subject to HKMA, HKMC and Inland Revenue Department's final approval.
Customer Hotline: 2311-1200